Craving a candy cane this holiday season? You're not alone. Luckily, this Be Well By Kelly smoothie will curb your peppermint cravings without all the sugar. Like all of Kelly Leveque's Fab Four smoothie recipes, the focus is on healthy fiber, fat, protein, and greens—leaving out the loads of fructose you'd find in many smoothies. It's still a touch sweet and plenty minty fresh, but you can rest assured that it is nutritionist-approved. Smoothies also make the perfect easy, on-the-go meal, so you can save your time in the kitchen for the major holiday cooking. Keep scrolling to get the recipe and see more photos. (And if the etched ceramic cups and bowls look familiar, that's because they are from Lauren's fair trade shop The Little Market!)
Be Well By Kelly Chocolate Peppermint Smoothie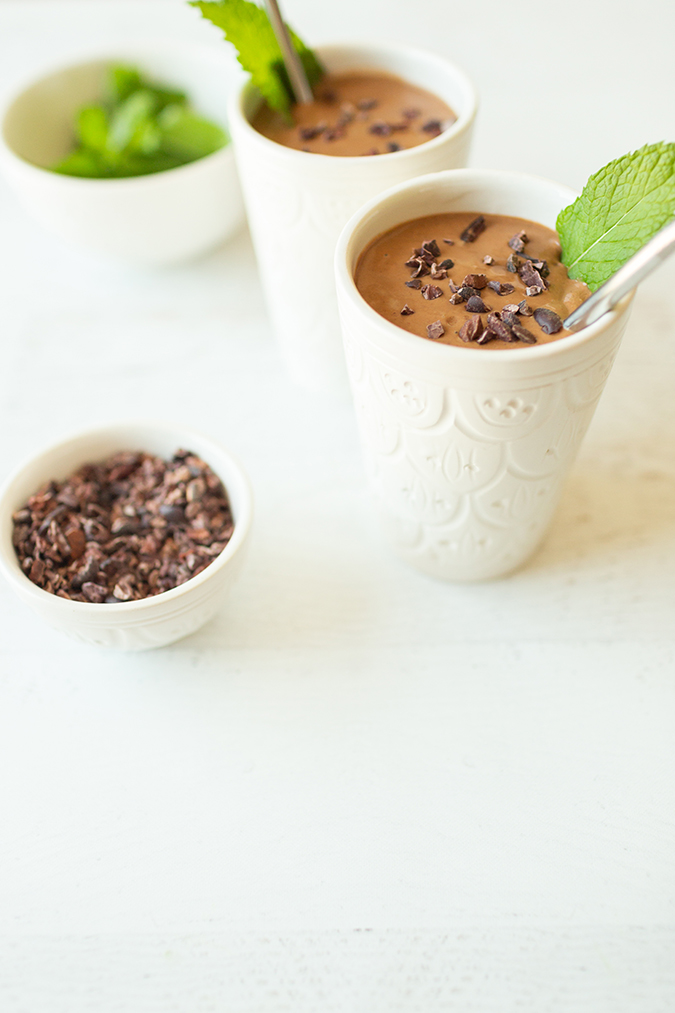 Ingredients:
1 ½ cup unsweetened almond milk
1 serving of chocolate collagen protein (Kelly uses Primal Kitchen brand)
1 Tbsp cacao powder
1 Tbsp cacao nibs
2 tbsp chia seeds
½ of small avocado or ¼ of large avocado
Small handful of mint leaves
3 drops (or quarter teaspoon) of peppermint oil (optional)
ice (optional)
Instructions:
Blend all ingredients together. Top with more cacao nibs and mint leaves. Enjoy!
Are you going to give this minty fresh sip a try?
You won't regret it!
XO Team LC
Affiliate links may have been used in this post.