If you've been keeping up with the Dine section of the blog, you may know about our affinity for chia seed pudding. Not only is it delicious, but chia seeds are packed with fiber, protein, magnesium, and more essential nutrients, making chia pudding a healthy morning meal or midday snack. From Mint Chocolate Chip Chia Pudding to Tropical Chia Pudding to Warm Pumpkin Protein Chia Seed Pudding, it's one dish I have on constant rotation. But I recently whipped up a new favorite chia pudding recipe, and it just so happens to be the simplest and most photogenic, too. Introducing my blush pink breakfast pudding…
With all the baking and cooking that I do this time of year, I like to have easy breakfast options that don't require a lot of time spent standing over the stove. This strawberry vanilla breakfast pudding recipe is the perfect easy, make-ahead meal to keep in your fridge for the week. And it doesn't hurt that it's our favorite color! Check out the recipe below…
Blush Pink Breakfast Pudding
makes 4-5 servings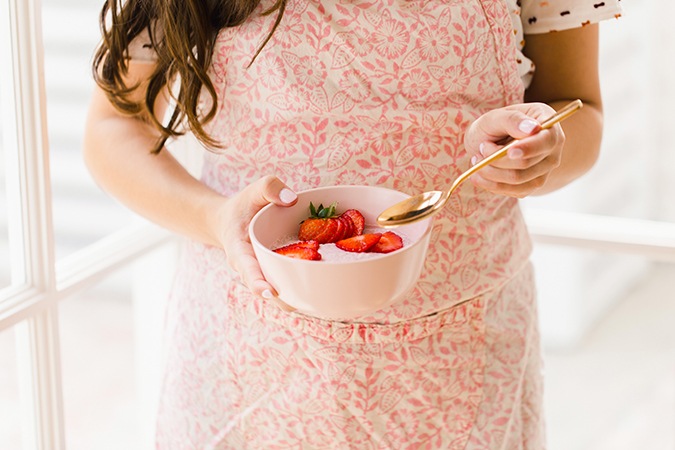 Ingredients:
2 cups strawberries, leaves removed (you will use almost a whole 16 oz. clamshell container)
1 can coconut milk (full fat will make for a thicker pudding, low fat will make for a thinner one)
5 Tbsp chia seeds
1 tsp vanilla extract
Instructions:
1. Place coconut milk and strawberries in a blender and blend until smooth. Pour into an airtight storage container.
2. Add chia seeds and vanilla into the coconut milk mixture, and use a whisk or fork to stir.
3. Place a lid on your container and refrigerate overnight or at least 3-4 hours. Stays fresh in the fridge for up to 5 days. Enjoy!
How pretty is this pudding?
It tastes delicious too!
xo Ilana
Team LC
Photos: Jessi Burrone for LaurenConrad.com
Affiliate links may have been used in this post.